"Lucky Leroy" Does it Again!
Congratulations are in order! Leon Roy traveled to Paducah Kentucky earlier this month as part of the Florida Bass Federations 12 man State Team with one goal in mind. Win the State and get to the next level, the Federation National Championship. Leon managed to catch 17 pounds 14 ounces during the three day tournament on the severely rain swollen Ohio River, good enough to place 16th overall and more importantly win the top spot in the state. He will be fishing for the state of Florida in the Federation National Championships next spring on a so far unannounced body of water. If he manages to beat the rest of the anglers from the southern division, Leon could very well be representing the southern division in the 2005 Bass Masters Classic to be held July 29-31 in Pittsburgh Pensylvania. Congratulations go out to Leon and well wishes for the National Championship tournament. Leroy boy you have gone and done us proud! Keep it up!
To see the Tallahassee Democrat Article written about Leon click here.
To see a profile on Leon click on the Bass Man 2003 button above.
The members of Big Bend Bass used the May tournament at the Ochlockonee River State Park to hold our annual conservation event. For the last several years we have been sending out a garbage bag with each boat with orders to fill em up. We are happy to say that this year many members reported garbage hard to find. Funny how when your looking for garbage it seems to stick out. There was a noticeable absence of junk on the rivers this year. Nice to see.... or not see.....
The members of Big Bend Bass played Garbage Man for the day.
Big Bend B.A.S.S. is proud to announce that two of our members have earned spots on the Florida B.A.S.S. Federation 12 man State Team and will participate in the Southern divisional tournament on Kentucky Lake in June 2004.
Leon Roy V and Heath Annin finished 6th and 10th respectively in the State Championship tournament held on Lake Seminole earning themselves a trip to the Federation divisional tournament. This is Leon's second trip to a divisional tournament and Heath's third. Making a State team is an extremely difficult thing to do with hundreds of anglers from across the state trying every year. Leon and Heath have both worked very hard for this honor. Congratulations to you guys. Good Luck to both of you. Unfortunately only one person from the team can move on to the Federation National, Here's hope'n it's one of you two!

Florida BASS Federation State Team 2004

Leon Roy V is Congratulated by Tournament Director Doug Gary from the Florida B.A.S.S. Federation for earning his spot on the State 12 Man Team. This is Leon's second trip to a divisional.

Heath Annin is Congratulated by Tournament Director Doug Gary from the Florida B.A.S.S. Federation for earning his spot on the State 12 Man Team. This is Heath's Third time as a member of the team, unprecedented in Big Bend B.A.S.S. History

The Pros of Bassmaster's Tour were featured at a meet the public event on Thursday February 6th. The event at Champion Chevrolet also featured a casting kids competition sponsored by Big Bend B.A.S.S. The winners this year were Jared Williamson and Brock Walker. Jared is now a two time winner of a casting kids competition! Congratulations boys, on a job well done!!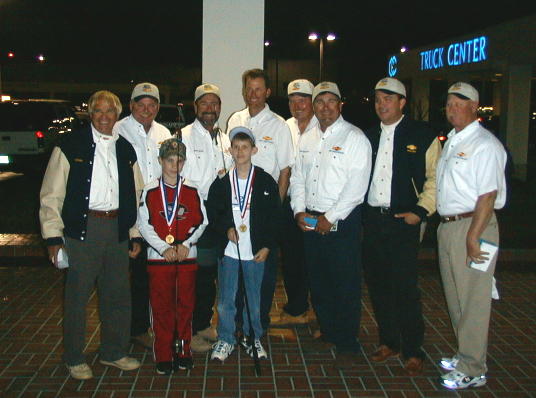 Chevy Pro Staff and Big Bend B.A.S.S. Casting Kids Champions for 2003. From Left, Jimmy Houston, Tom Biffle, Gerad Williamson, Larry Nixon, Brock Walker, Kevin VanDam, David Fritts, Kim Stricker, Jay Yelas and Tom Mann Jr.

Here are some of the participants in this years Casting Kids event at Champion Chevrolet.

Marcus Rickets and Jim Longfellow teach youngsters how to cast, pitch and flip!

Mike Prindle seeing if he is up to the challenge. Sorry Mike, your just too old to compete in this one!!

Chuck Cullpepper doin his best impression of a rod rack at Oshmans.
Eric Wills, Ricardo Smith and Mark Nichols discuss something important.

Members of Big Bend B.A.S.S. who participated in the Casting Kids program.