Here are some archived pictures from years past..

1999/2000 State Champion Howard Cartright

State Team member Heath Annin

State Team member Mick Ratcliff

Eric Wills with a nice Oklocknee river bass

Dave Smith with a Eufaula Keeper

Jerry Shook looking official

Jim Smith recording weights

Leon "Leroy" Roy with a nice 9 pounder from lake Jackson

Marvin Foran with a couple nice Oklocknee river fish

Mick, Heath and Lyle checking out the weights for the day

Lyle and Jim. We think maybe Jim was using a camouflaged worm. The fish never did find it...:-)

Bryan Carter fixin to go load the boat

James "Shade Tree" Harrison at the post tournament pre weighin B.S. session.

Mick and Bryan at the post tournament B.S. session.

Eric, Ray, Lyle and Dave

At the Weigh-in

Leon Roy after his Apalachicola win

Handsome Devils ain't they? Dave Smith and James Harrison

Eric Wills

Lyle just coolin out

Marvin, James and Ray Check out the weights

Our tournament director Marvelous Marvin Foran at work

Associate member, club counselor, poker king and all around good egg Chuck Stannard relaxes after a hard days fishing.

Bryan Carter relaxes after a day on Seminole

Shade and Leroy with, unbeknownst to the rest of us, over 30 pounds of fish in the wells.

Now there's a sack of fish!! Sorry, lucky @!$#$!@#%

Heath trying to suck it in!!

Not a great picture but it's Marcus Rickets discovering America... One Appalachicola sandbar at a time!! Six hours later the tide came back... Bummer..

James "Shade Tree" Harrison with a fine Seminole largemouth.

Leon "Leroy" Roy with a couple from Seminole.

Ricardo Smith with a good one from Seminole.

Brian Cathey got to the scales and when he dumped his fish in the basket this is what he found. One of them fish needed more to eat than the bait Brian fed him and tried to devour another. Them Appalach fish is bad hombres eh? Recon they would have weighed the same if the biggun had finished the meal. Mighta even got Brian big fish of the tournament.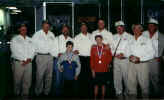 Chevy Pro Staff and Big Bend B.A.S.S. Casting Kids Champions for 2002. From Left, Tom Mann Jr., Denny Brauer, Larry Nixon, Gerad Williamson, Kim Stricker, Kevin VanDam, Derek Hedman, Tom Biffle, Jimmy Houston and David Fritts.

Big Bend B.A.S.S. members with Casting Kids Champions. Back left; Tom Jacobs, Lyle Clanton, Eric Wills, Jerry Shook, Mike Prindle, Warren Summer. Front left; Scott Williamson, Gerad Williamson, Jim Longfellow, Derek Hedman and Ricardo Smith.

Here is Tom Jacobs with a nice little Lake Blackshear Shoal Bass. Sure is purrty.... the fish.... I meant the fish..... These things are more rare on Blackshear than the largemouth....... Rare indeed!!

Mike Prindle shows off a largemouth bass from Lake Blackshear.

Here's Jim Longfellow with a couple nice Blackshear bass.

Riccardo Smith found this nice 3 1/2 pounder on Blackshear. It was the day one big fish.

The day two big fish was this 5 1/2 of Jim Longfellow's.

John Cox with the big fish of the tournament on the Ochlocknee river.
Chuck Cullpepper with a goodun' from the Ochlocknee.

Mark Nichols with his version of an Ochlocknee river largemouth.

"New guy" Daniel McCall with a couple nice Lake Talquin fish that helped him win his first club tournament he ever entered.

2002 Bass man of the year Eric Wills with a pair of Lake Talquin largemouth.

Allan Rogers shows off a nice striper he caught on the Choctawhatchee river. Wrong pedigree but still quite a fish.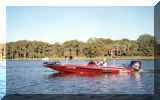 2002 Angler of the Year Eric Wills idling by during the Classic.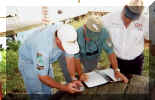 Leon Roy and Jim Longfellow add up the classic weights while Heath Annin looks on.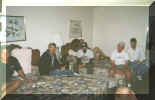 Some of the guys gettin ready for the Calcutta. Time to break out the big bucks boys!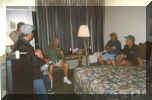 Here's the other half of the room at the Classic Calcutta 2002.

2002 Classic Champion Leon Roy shows off a nice 8.50 largemouth that helped him take the classic win.

Ricardo Smith shows off a January Suwannee bass

Marcus Ricketts shows us two of his limit.

Heath Annin with two of the five Suwannee bass that earned him third place.

John Cutrer shows off a couple.

Jason Meredith with a really nice Suwannee River Largemouth. This is the target for Big Fish of the Year at 8.65 pounds
Eric Wills with an almost as impressive 8.15 pound Largemouth.

Leon Roy gives us a great look at what a Suwannee Bass is supposed to look like.

James Harrison with a couple Appalachicola River Bass

Jim Smith shows what wearing a red shirt can get you.

Warren Sumner show us what he found at Appalach

Rick Bedford with a couple from Appalach

Marcus Ricketts show us a couple that helped him out

Chuck Culpepper with a couple green friends

Obie Harper with a nice Appalach largemouth

Jim Longfellow strikes a pose

Young Gun Daniel McCall showin what he can do

Scott "Weighmaster Willy" Williamson shows that not only can he weigh em he can catch em.

Ed Ditto holds a couple that helped him move towards the top six

Leon "Lucky Leroy" Roy with the big fish of the tournament at Talquin. We're thinkin this may be the big fish of the century for Big Bend B.A.S.S. At 11.21 pounds it will probably stand for a while.

Mark Nichols with one that didn't quite top Leon's fish at Talquin. Hey Nick aint you supposta hold yer fish towards the camera so it looks bigger?

Eric Wills with a pair of his Second Place Talquin stringer.

Here is Eric's Dad Gene Wills who fishing as Eric's guest whooped most of the field with a third place but came up shy of whoopin his boy by 6 100ths of a pound. Now we see where E' gets it from!!

Brian Cathey lookin a little stiff... Nice fish though!

Jason Meredith with a couple nice Lake Talquin Bass

Here's Heath Annin with a pretty nice pair of Talquin fish........ Uh.... Heath?..... Uh...... the one in your left hand is the wrong pedigree..... Two time state team member....... whatever.......:-)

Ralph Ricardo was doin his best to fill in for Dave Smith at the Eufaula tournament. Uh Ralf..... Eufaula has a 14 inch limit......

One of the cool things about Eufaula is the nice campground. All of the camp spots are pretty nice...... even if it's not the one you've been assigned as Eric Wills, Jason Meredith and Mike Prindle demonstrate here.

Heath Annin shows off the day one big fish on Eufaula

Dale Beene with a Eufaula Largemouth

Brian Cathey with a couple that helped him earn third place.

Chuck Culpepper with a Eufaula keeper.

John Cutrer with his Eufaula catch.

Mark Nichols showing us what he found.

Mike Prindle with his first day fish that got him started towards the win.

The ever present Marcus Ricketts showing part of what earned him 4th place.

Some of the guys at the weigh in.

Heath Annin showing us the big fish of the tournament on Seminole in May.

Howard Cartright doin his "I finally caught some fish" Dance!

Here's a little more serious pic of Howard with some nice Seminole fish.

Tom Jacobs shows us a couple from Seminole

Jim Longfellow with a Seminole Hawg and it's little brother.

Club Pledge Brian Satterfield shows that even the new guys can stick em.

Ed Thompson with a nice Seminole Largemouth.

Scott Williamson shows us what he found.

Tom Rogers shows us Lake Blackshear has bass in it.

Leon Roy with a couple Blackshear bass.

Now boys, we know your out of town and the wives aren't around but do you really think this kind of hanky panky is called for?..... Musta been a long weekend........

Brian Cathey doin his best TV personality impression...... Oh Son..... Its a Giant Ochlocknee River Monster Bass!!

Lyle Clanton with a pair of nice Ochlocknee area fish.

Big Bend BASS Synchronized Swim team Captain Ed "Greg Louganis" Ditto with one of his fish.

The Swim Team...(L to R) John "Mark Spitz" Cutrer Rick "Rowdy Gains" Bedford and team captain Ed "Greg Louganis" Ditto.

Marvelous Marvin Foran shows off the fish that helped him get the Ochlocknee win.

Obie Harper does the water dance.

Jim Longfellow shows he has what it takes to be a garbage man.
Daniel McCall with an Ochlocknee bass.

Jason Meredith with a pair.

Jerry Shook with one that helped him take third place.

Weighmaster Willie with a pair.