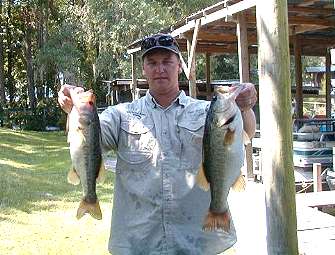 The 2002 Bass Man of the Year is Eric Wills. As anyone who ever gave it a serious run knows, the title of Bass Man of the Year in Big Bend B.A.S.S. is a challenging accomplishment, one to be extremely proud of. It usually means putting way more time and money into pre fishing for every tournament than you could ever win in the tournament. It means dedication to the cause. You don't have to win every tournament but you have to be consistently towards the top throughout the season. You need a break or two along the way but for the most part you have to make your own luck. It's been said that luck is the result of preparation meeting opportunity. Let's introduce you to the "luckiest" guy in the club this year.......
Profile of a Bass Man of the Year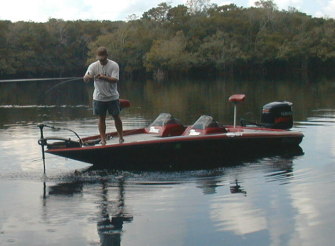 Eric Wills
Age- 31
Occupation- AutoCADD technician for an engineering firm.
Tell us about your family - I have been married to a gorgeous raven haired beauty by the name of Barbara for 9 years. We met our first semester of junior college in 1989. She has been very supportive this year, and at times inspirational.
How did you get started bass fishing?- Thanks to my dad, I started bass fishing around five or so years of age. I can remember him getting me out of bed on those cool mornings. Some mornings I wouldíve rather stayed in bed. But, when I finally woke up and I was on the water, it was worth it.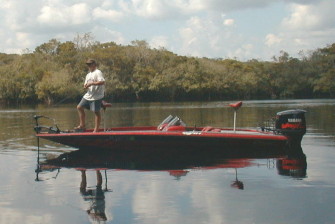 How did you get into tournaments?- Again I have to thank my dad. He and I fished a few local tournaments around the Panama City area, and had very little luck. I love to compete, not to the point of being boastful, and I love to fish, and bass tournaments were the perfect format for me. Only this year have I started really doing decently in tournaments.
How long have you been fishing with Big Bend Bass?- Thanks to the encouragement of a dude by the name of Mick Ratcliff, I joined Big Bend Bass in October of 1999. That was definitely the best move Iíve made that has helped my bass fishing. Iíve learned a lot in those three years, and I thank everyone in the club for their know how and sportsmanship.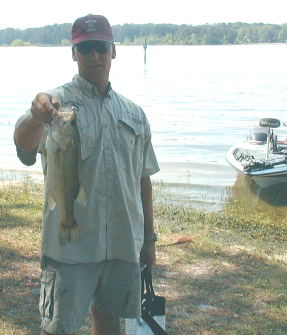 What is the highlight of your fishing career so far?- This year I have had the best fishing year of my life. After winning a team benefit tournament on Lake Talquin , and placing high in every stop of a team trail, and placing high in the most popular draw tournament around here (the T.B.A.), by far, the highlight of my career is winning the 2002 Bass Man of the Year honor for Big Bend Bass. I had a great start to the year, but I didnít think I could pull it off.
What is your favorite body of water?- My favorite body of water would have to be where I cut my bass fishing teeth, the Apalachicola River and all its many creeks and lakes. I think Iím slowly growing fond of Lake Talquin here in Tallahassee. I really havenít made mind up about that one though!
What is your favorite technique?- My favorite technique is whatever is working! I love them all. I can finally consider spinnerbaits one of my confidence baits, as well as trickworming, paddletailing, and Texas rigging. That bed fishing is hard to beat as well.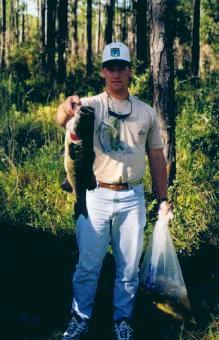 What are your aspirations as far as fishing go?- I have this internal drive that is hard to suppress. If I go a weekend without bass fishing it literally hurts inside. To know that Iíve got to go through another week of work before the next opportunity to fish is hard to take. I think the allure of bass fishing is trying to figure out what the fish are doing day to day. Once you figure out where they are and what they want, itís magic. You can do no wrong. Thatís what keeps me going, whether I strike out or hit a home run.
What advise would you give someone thinking about getting into tournament fishing?- It may sound like a broken record, but time on the water is crucial. Obviously, the more you can learn, and the more you can take in, the better a fisherman you will be. And by all means join a bass club. The knowledge that you get from your peers is irreplaceable. By listening to them, you can shave years off of your learning curve. First and foremost, trust your intuition. You hear it all the time, "go with your gut". I donít know how many times this year that something didnít feel right and I would make a change and it would pay off. Just trust yourself.
Any sponsors you want to recognize?- The only sponsor I have is that little lady I told you about earlier. Thank you for TRYING to understand this addiction.
Anything else you want to add?- I would like to thank all the "non boater" guys that I fished with this year. You all brought something to the table and I thank you for that. I would also like to thank my team trail partner Leon Roy, who is also in the club, for the added motivation. Iíve enjoyed it and can't wait till next year. Last but not least, I thank the Lord.